As the last month of summer approaches, I would like you all to take a moment of silence to reflect on all the time you've wasted doing nothing. And with nothing being one of my favorite things to do, I need to practice what I preach and go out into the world more myself. I plan to do just that this weekend and hope you will too. Bonus: almost everything on this week's list is either free or extremely affordable, except for one, and that's an intro to blacksmithing class at Adam's Forge. I think you'll find the experience is worth the cost, though, but you won't know until you go and try it – so go try it! Oh, and before I forget, there's a special dog adoption event going on Sunday at the Original Farmer's Market, so maybe you'll find a new bestie this week, too.
Arts, Culture, and Entertainment
With support from the Pakistan Arts Council LA & Aga Khan Museum, and presented by Grand Performances, Ali Sethi + Discostan will grace the GP stage on Saturday, July 23 from 6-10 p.m. Singer-songwriter, composer, and fiction author Ali Sethi, who is currently #1 on international pop charts with his global hit "Pasoori", will be the main act, along with super cool sounding Discostan, "a diasporic discotheque which imagines past, present and future soundscapes from Beirut to Bangkok via Bombay" (um, yes please). Sethi is one of Pakistan's most popular pop stars, who after living in the US for the past five years still considers himself a "diasporic voice". Grand Performances are free and take place at 350 S. Grand Ave. in DTLA; register here.
The Broad is also bringing the music this week, on Saturday, July 23, in the form of a live performance of "Femenine" by visionary composer Julius Eastman (1940-1990), co-presented with and performed by critically acclaimed classical music ensemble Wild Up. "Eastman was an American maverick and radical who challenged the exclusionary foundations of European classical music and organized his compositions as tools for social change." Tickets to this event include access to The Broad's galleries, including the special exhibitions This Is Not America's Flag and Takashi Murakami: Stepping on the Tail of a Rainbow from July 20-27 during regular museum hours (simply present your event ticket at the main entrance of the museum, no reservations required). The concert will take place after hours from 8-9 p.m. Tickets are $20. The Broad is open Tues-Sun; hours vary. 
And having taken 3 semesters of metalsmithing myself (thank you very much), this event/workshop is of special interest to me personally. I just wish I was around this weekend to sign up! On Sunday, July 24 from 9 a.m. – 1 p.m., the Craft Contemporary + Adam's Forge will be offering a class where newbs can learn fundamental techniques of blacksmithing and forging, all while creating a letter opener. All skill levels are welcome. Space is limited and advanced registration is required. The workshop will take place off-site at Adam's Forge located near DTLA on Humboldt St. Tickets are $150 for non-members and $145 for members; cost includes materials and furnace fee. P.S. if you miss this one there are still plenty of other classes on Adam's calendar.
Neighborhood darling Chevalier's Books has in-store events almost every night this week, starting on Tuesday, July 26 with a Night of Pun-ny Romcoms, and continues on with Jyoti Thottam and her newest book Sisters Of Mokama: The Pioneering Women Who Brought Hope And Healing To India, up for discussion on Wednesday, July 27. The book recounts the never-before-told story of six intrepid Kentucky nuns, their journey to build a hospital in the poorest state in India, and the Indian nurses whose lives would never be the same (insert crying smiley face). Buy a copy of the book here. Then there's Tom Zimmerman's Queen of Technicolor on Thursday, July 28, followed by The Last Unicorn reading and signing with legend Peter Beagle on Friday, July 29. Click here to view Chevalier's full calendar. Please note that masks are required for all in-store events. 
JAPAN HOUSE Los Angeles will kick off its newest exhibition, LIFE CYCLES: A Bamboo Exploration with Tanabe Chikuunsai IV on Thursday, July 28, with an art talk and live demo by the artist. On display through January 15, 2023, this first-ever LA exhibition for renowned Japanese contemporary artist Tanabe Chikuunsai IV, "pushes the boundaries of the bamboo art form" with a site-specific, immersive bamboo installation, constructed with 10,000 woven bamboo strips held together with tension. It looks awe inspiring just from the pics, but feels like something that needs to be seen in person, so get out of your rut and come engage with this otherworldly installation for some inspiration! An intro section will highlight the four generations of the artist's family who have been weaving and sculpting bamboo for 100 years, and the importance of passing skills down from one generation to the next in Japanese culture. Bamboo craft webinars, panel discussions, and food programs relating to the exhibit will also be taking place throughout its tenure (click here for deets). Admission to the exhibit is free; the gallery is open daily from 11 a.m. – 6 p.m. and until 8 p.m. July 29, 30, and 31.
Lastly, if you can find the time between now and July 30 be sure to head over to local art venue Tag Gallery, where 50+ contemporary American artists' works from Tag's annual art competition are on display. After sixteen years celebrating the California Open, the folks at Tag decided to rename their annual contest (and exhibit) to Made in the USA, while also expanding their prizes, for "a fresh take on contemporary art made by artists from around the country." The prize tiers include one Grand Prize winner ($2,500 cash), one Membership Prize winner (2023 solo show +), and three Featured Artist Prizes (primary gallery placement). All artworks are available for purchase, so come on down and make a purchase or two and support local artists! Founded in 1993, TAG is an artist-operated not-for-profit gallery cooperative located on Museum Row.
Kids, Family, and Community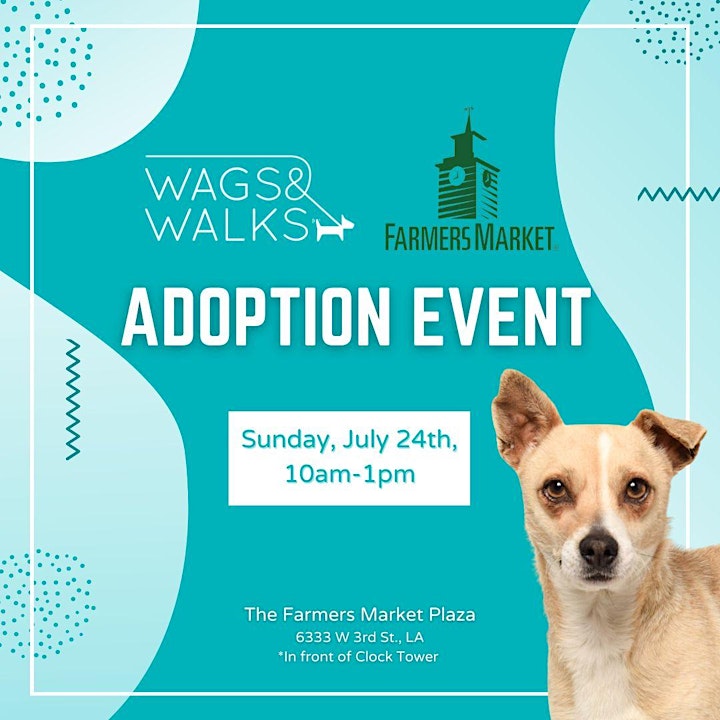 If you've been thinking about getting a dog and just haven't taken any steps, now is the time to do just that! Courtesy of the folks at Wags & Walks, you'll have the opportunity to meet your new adorable, fuzzy wuzzy bestie at the special Dog Adoption Event at The Original Farmer's Market this Sunday, July 24. Come on down to meet the adoptees and learn about adoption and getting involved, from 10 a.m. – 1 p.m. under the clock tower. And even if you don't take a pup home this time, maybe it'll inspire you to do so down the line. Wags & Walks is a nonprofit organization and "a dedicated community of dog lovers working to reduce euthanasia in local shelters and increase awareness of rescue dogs being wonderful pets".
If you love cool free programs and local gems like the Wilshire Branch Library then here are a few suggestions to add to your calendar this week. Number one, Sword Fighting for Stage and Screen on Saturday, July 23 from 2-3 p.m. Join the Game On Stunt Team for a special all ages program featuring staged combat fencing! Discover the history of swords, find out how sword fights are created for theater and films, and learn how to handle historic weapons safely and carefully. The second is on Tuesday, July 26 and it's Cookies and Comic Books from 6:30-7:30 p.m., where fans of graphic novels meet virtually to discuss books like this week's Little Nightmares Vol. 1 by John Shackleford
(available with your library card on hoopla). And thirdly, learn how to Weave a Japanese Friendship Bracelet (aka the ancient art of kumihimo weaving) on Thursday, July 28 from 4-5 p.m. in the Community Room. All supplies are free and provided (noice!). For ADA accommodations, call (213) 228-7430 at least 72 hours prior to the event.
Local Government
Your local NC, the Greater Wilshire Neighborhood Council has just two meetings on the books this week. First up is the Transportation Committee on Monday, July 25 at 7 p.m., followed by the Land Use Committee on Tuesday, July 26 at 6:30 p.m. Click here to view the calendar for deets.
And the Mid City West Neighborhood Council will wrap up our events list with three meet ups on the books this week, starting with the Social and Racial Equity Committee on Tuesday, July 26, followed by weekly Wednesday Walks on Wednesday, July 27. And the Executive Council will conclude MCW's week with a meeting on Thursday, July 28 at 7 p.m. Click here to check Mid City's calendar for details. 
Julia is a native Angeleno and jack of all trades, having worked in television, visual effects, professional sports, health and wellness, and custom design. She currently resides in El Segundo.