Good day to you, fine folks, there is so much to celebrate this week and I'm getting excited. Father's Day AND Juneteenth are happening on Sunday, June 19 (I love me a dual holiday) and the Summer Solstice will take place on June 21 in the Northern Hemisphere at 2:13 a.m., which is also the longest day of the year, so more daylight for good times and summer concerts. There's a lot going on this weekend, in particular, so you'll have to choose wisely. Oh, and Jeni's ice cream shop in Larchmont Village will be giving away free ice cream to its Jeni's Splendid Awards members after 7 p.m. on June 21 to ring in the solstice. Not a hard decision to make there.
Arts, Culture, and Entertainment
If dear old dad is a car guy, then the Hoods Up! Fathers Day event at the Petersen Automotive Museum is the place to be! Enjoy a long weekend of family time and cars, Friday, June 17- Monday, June 20 when the Petersen will be lifting the hoods on some of its most iconic vehicles for all to witness! Come check out the inner workings of some of the rarest cars in the world, from Buick to Bugatti, Dodge to Delahaye, Tucker to Toyota, and treat yourself to an intimate viewing of the complex, big block, and alternative powered motors that make these vehicles run. All 150+ cars in the museum's collection will be on display, as well as a hundred more in the Vault tours. Hours are 10 a.m. – 5 p.m. Tickets are $19/Adult, $17/Senior, and $12/Kids. Self-guided and docent-guided Vault tours are also available. 
Pickles are one of my favorite food items, so I was tickled to find out that Kaylin and Kaylin Pickles will be hosting its 1st Annual Pickle Palooza at the Original Farmers Market on Saturday, June 18 from 1-3 p.m. Compete in pickle eating contests (spicy, savory, and sweet), listen to DJs, ham (or pickle) it up in the photobooth, and meet your favorite chefs, influencers, and TikTokkers, including Owen Han, Eat It Katie, Romy Raves, and so many more (I think I'm too old to be in the know here). This family-friendly day supports the American Cancer Society's ResearcHERS Campaign to raise awareness, increase research funding, and inspire a new generation of women considering careers in STEM (Science Technology Engineering and Math). Pickle Palooza will take place in the Plaza… and don't forget live music Thursdays on the West Patio!
Ah, the beginning of summer, when everything is so fun, fresh, and fancy free (literally)! Grand Performances free summer concerts are also back and happening this Saturday, June 18 from 2-6 p.m. Enjoy cool, indie, kid friendly ("kindie") music by Latin Grammy and Emmy award-winning husband and wife duo Lucky Diaz And The Family Jam Band, while celebrating dad on this Father's Day weekend. This family friendly, early afternoon event will be filled with live music, DJs, dancing, games and more. Grand Performances take place at 350 South Grand Ave in DTLA. The next free concert will be on Sunday, June 26.
LACMA's Latin Sounds is teaming up with Levitt Pavilion Los Angeles for the Opening Night of its Free 2022 Concert Series happening this Saturday, June 18. The all-star lineup will feature El Gran Silencio, Buyepongo, Las Chikas, and the La Banda Elástica DJs playing at historic MacArthur Park! And to give you a little more background, El Gran Silencio is a rock band from Monterrey, Mexico, blending a variety of rock, reggae, dancehall, and dub influences with traditional Latin American music. Buyepongo has created a new sound (referred to as Buyangu) by seamlessly fusing Afro beats with Merengue, Punta, and Cumbia. Las Chikas prove salsa never looked so good and will set the stage on fire! And last but not least, La Banda Elástica, the home of Latin alternative music and culture in the US for the past 30 years! The evening will last from 5-10 p.m. 
Summer movie screenings are back in business at the Hollywood Forever Cemetery, and this Saturday, June 18, classic sci-fi horror flick Aliens will be playing on the big screen. Bring a picnic with beer and wine (and food, of course) and make it a night. Doors at 7:15 p.m. Movie starts at 8:45 p.m. Tickets are $22 with reserved paid parking available ($30 on-site and $20 off-site). And don't forget, this movie is Rated R, so no one under 17 will be admitted without a parent or guardian. Next movie night will be on Saturday, June 25 with a showing of But I'm a Cheerleader starring Natasha Lyonne. Get Tickets here!
This Juneteenth (and Father's Day), Sunday, June 19, head over to the California African American Museum for a Juneteenth Prosperity Market starting at 11 a.m., where you can support and celebrate Black farmers, chefs, and entrepreneurs. Stock up on fresh fruits and vegetables, discover delicious prepared foods and handmade artisan goods, enjoy music, cooking demonstrations, a children's reading hour from the Los Angeles Public Library, family arts and crafts, raffles, and a morning sound bath by Sol & Sound. Schedule: Farmers Market 11 a.m. – 3 p.m., Sound Bath 11 a.m. – noon (indoors), LAPL Reading Hour 12-1 p.m. (indoors), Children's Art Activities 11 a.m. – 3 p.m. (outdoors). All activities are first come, first served. Entry into the market and museum is free.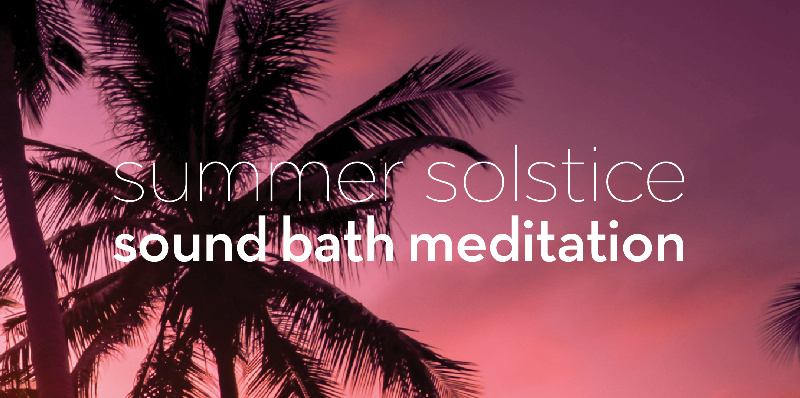 Have you been looking to drop into a deep and therapeutic state of mind, and still need a gift for dad, too? Well, look no further, on Sunday, June 19 at 8:15 p.m. you can give dad the unique gift of frequency healing! Get ready to harmonize your mind and body with positive vibes at the Summer Solstice Sound Bath Under the Stars at The Hollywood Roosevelt Tropicana Pool with master sound healer and creator of Quantum Harmonix, Torkom Ji. During this intimate outdoor sound bath meditation, each guest will have their own wireless headphone and chaise lounge set around the hotel's iconic pool in the open air surrounded by palm trees and the night sky. This one hour listening experience is crafted live and optimized for the headphone experience, giving attendees the benefit of perfect sound regardless of their seating. The cost is $40 per person. Doors open at 7:30 p.m. 
Meanwhile, there's another great way to celebrate the start of summer, and those long, lazy summer evenings, at Jeni's Splendid Ice Creams, 123 N. Larchmont Blvd., when the shop will provide a free scoop of ice cream to its Jeni's Splendid Rewards members after 7 p.m. on Tuesday, June 21.
And Chevalier's Books is keeping the deep talks going this week with a virtual West Coast Book Launch of The Long Answer on Wednesday, June 22 at 6 p.m. Join author Anna Hogeland and singer-songwriter Nandi Rose to celebrate the publication of her debut novel, "an intricately braided account of pregnancy, motherhood and witnessing." Purchase a signed copy here. Then on Thursday, June 23, Chevalier's will welcome Bob Fingerman, creator of the comic series Minimum Wage, to discuss and sign his newest book Pariah Redux. Set in a Manhattan walk-up, "Pariah sets the classic zombie tropes on their ear… Very contemporary, but also taking cues from the classic New York cinema of Martin Scorcese, Neil Simon, Woody Allen and other gritty cinema and literature, the reader gets thrust into a truly dire survivors' tale." Please note masks and proof of vaccination are required. The event will take place in-store at 7 p.m.
Local Government
Your local NC, the Greater Wilshire Neighborhood Council, has just one meeting on the schedule this week for the Outreach Committee meeting on Tuesday, June 21 at 6:30 p.m. Click here to view the calendar for details.
And the Mid City West Neighborhood Council will wrap up our events list with several gatherings on the books, starting with a HRRRTs Committee (Homelessness, Refugees, and Renters Rights) meeting on Monday, June 20, followed by a Public Safety and Well-Being Committee meeting on Tuesday, June 21 and weekly, in-person Wednesday Walks on Wednesday, June 22. And the Executive Council will close things out on Thursday, June 23 at 7 p.m. Click here to check Mid City's calendar for details. Bonus: In partnership with Greenway Arts Alliance, MCW has plans for a Juneteenth Event set to take place on Sunday, June 19 from 11 a.m. – 4 p.m. at the Melrose Trading Post. Stay tuned for details!
Julia is a native Angeleno and jack of all trades, having worked in television, visual effects, professional sports, health and wellness, and custom design. She currently resides in El Segundo.