Halloween day has (almost) finally arrived and the season of candy, costumes, and cleavage is in full swing! Below you'll find mostly local holiday happenings, but here's a Halloween Roundup, courtesy of the Patch, with a lot more options near and far to consider. You'll also be delighted to discover the secrets of Kaiseki, the return of the Larchmont Family Fair, and plenty of opportunities to support your community via blood drives and fundraisers. Have a Safe and Happy Halloween!
Halloween, Day of the Dead, and Kaiseki
As I mentioned above, as if you didn't already know, Halloween is almost here, and with it the 13th Annual Wilshire Park Halloween Haunt on Saturday, October 29 from 4:30-7:30 p.m. Once again, the friendly folks that make up the Wilshire Park Association are throwing a huge Halloween bash on Bronson Ave. between Wilshire and 8th. Festivities include old favorites and new fun, including a Haunted House, Fortune Teller, Bouncers, Silent Auction, Carnival Games, Food, Photo Ops, and Costume Contests, of course! ​Most of the activities are free, but there will be a cost for food, drinks and auction items, so please bring cash. To volunteer or donate items for the Haunt, click here​. 
In other good news, Mayahuel: The Maguey Goddess of Fertility (and other things) will be the theme of this year's 23rd Annual Día y Noche de Los Muertos Festival at Hollywood Forever Cemetery. Taking place on Saturday, October 29, the organizers thought it best to break up the day into two separate daytime and evening events, allowing guests to enjoy a more intimate experience of the altars, dancers, musicians, art exhibitions, culinary vendors, people watching and so much more. A little BG on Mayahuel: Aztec Goddess of Fertility, the Maguey (or Agave), and the ruler of the 8th day and the 8th year; she brings love, magic, and transformation, while she "eases our grief and comforts our miseries with her gifts of Mezcal and pulque!" This Day of the Dead, we acknowledge the griefs and miseries of recent years as we gather to celebrate the Gifts of Mayahuel and summon better days. Día Tickets from 9 a.m. – 3 p.m. are $35 or $150 for VIP. Noche Tickets from 5 p.m. – 12 a.m. are $55 or $250 for VIP.
If you're a scary movie lover, then you probably can't get enough 'round this time of year, and Lord knows there are plenty of great theaters, old and new, in LA where you can get your fix. The iconic Hollywood Legion Theater is just one of those special old theaters, which just happens to be showing a Pre-Halloween Double Feature of a childhood favorite of mine, Gremlins at 1 p.m. and The Howling at 3:42 p.m., all happening this Sunday, October 30. So why not make a day out of it, and enjoy a little '80s Halloween nostalgia! Bonus: the day will also feature a special Q&A with the director of both films, Joe Dante, along with author and film historian Alan K. Rode. Tickets are $16 for seniors, students, and children and $18 for adults.  
The cult classic/beloved mixed holiday, stop-motion animated and uniquely Tim Burton film, The Nightmare Before Christmas, will complete its annual seasonal run at the El Capitan Theatre this coming Monday, October 31. Bored with the same old scare-and-scream routine, Pumpkin King Jack Skellington longs to spread the joy of Christmas. But his merry mission puts Santa in jeopardy and creates a nightmare for good little boys and girls everywhere. See the movie in 4D and view film props on display from the Walt Disney Archives, including Jack's House and Town Hall. Daily showtimes now-Halloween: 10 a.m., 1 p.m., 4 p.m., 7 p.m. (and 9:55 p.m. Fri-Sun only). The cost for all ages reserved tickets are $16 or get a Movie & A Meal for $50. Includes one reserved ticket, meal, dessert, and soda.
And to finish off this section for the week is the always cool, JAPAN HOUSE Los Angeles. Starting Friday, November 4, Hollywood's very own Japanese cultural destination will launch Defining Modern Kaiseki, a limited-time series of elegant kaiseki dinner pop-ups with renowned Michelin-star chef Hiroo Nagahara! The popups take place the first 3 weekends of November and December with two seatings at 5:30 p.m. and 8:30 p.m. Each intimate session with Chef Hiroo (and only about 12 other diners) will involve a guided, 8-course kaiseki dinner, plus small bites, candies, and confections. Kaiseki is rarely available outside Japan and is still relatively unknown among foodies, so get in the know, people! Each dinner costs $260 per person, plus tax and gratuity. Optional beverage pairings and a la carte selections will be available for purchase onsite. Advanced reservations are required. P.S. Cool new experiences aren't always cheap, but usually worth it!
Community and Local Government
Come join your fellow neighborinos for Rose Scharlin's 19th Annual Halloween Hullabaloo School Fundraiser this Saturday, October 29 from 10 a.m. – 1:30 p.m. Have your morning cup of joe with friends, eat homemade treats and other tasty goods from the school's kitchen, while the kids run wild and free, enjoying games, a bouncy slide, crafts, and more innocent Halloween fun. So put on a costume and come on over! Rose Scharlin Cooperative Nursery School is located at 2414 Lake View Ave. in Los Angeles. This event is fun for all ages, but made for ages 0-5, and admission is free. 
After a two-year hiatus due to that thing we know all too well, the Larchmont Family Fair is back and better than ever with new features and fun happening on Sunday, October 30 from 2-7 p.m. Thanks to the Larchmont Boulevard Association (LBA) and generous local sponsors (including – shameless plug – the Larchmont Buzz), this beloved neighborhood tradition has been reinvented this year. There'll be two stages, one with composer Stephen Endelman playing classic cinematic songs, and at the other end of the street, a Children's Stage, with 3 hours of diverse programming for kids from 2-5 p.m. There will also be food and drinks of course, including an inaugural beer garden serving artisanal beers from a local family owned brewery. Tickets for rides/concerts can be bought online here or in-person at the fair. Ride tickets are $5, concert tickets are $20 for adults and $10 for kids 14 and under. No tickets are required to enter the street, and all the programming on the Children's Stage is free. Bonus: Jeni's Ice Cream will be giving away free scoops to kids in costumes. See you there!
Meanwhile, the Carthay Square party peeps are also throwing their first event since the pandemic, and it's their annual Block Party this Sunday, October 30. The party will take place on the two blocks of Packard between Hi Point and Stearns from 9:30 a.m. to noon. Enjoy kids' games and bounce house, a photo booth, food, and more. Breakfast will be served from 9:30-11:30 a.m.; Kids' Costume/Pet Parade will start at 11 a.m.; and the Raffle drawing at 11:30 a.m. Each person who registers at the check-in tables will get a free raffle ticket (more tickets available for just $1 each). P.S. You're also invited to a gathering before the block party to honor community leader Marilouise Morgan, whose incredible record of public service started way back in the 1980s. The gathering will be at 9 a.m. on the corner of Point View and Whitworth. 
It's also been a while since our last local blood drive, so what a perfect time to have one. On Sunday, October 30 from 9 a.m. – 3 p.m., join Cedars-Sinai for the Community Blood Drive 'Mitzvah off Highland!' It's so easy to sign-up and won't take up much of your time, AND you get to choose a gift card or movie voucher, to boot, as your reward for donating. (Hey, a little bribery never hurt anyone). Come be a Hancock Park Hero for Halloween, just south of Beverly Blvd at 179 S. Highland Ave. in Los Angeles. Just look for the large green-ish Bloodmobile Bus (it's hard to miss) stationed on Second Street. Bonus: there will be plenty of free parking, all-you-can-eat refreshments and snacks, AND you'll be able to find out your own blood type. So in honor of Dracula, and in the spirit of the season and good deeds, come donate!
Your local NC, the Greater Wilshire Neighborhood Council has just one meeting this week and it's for the Resilience Committee on Wednesday, November 2 at 7 p.m. Click here to view the calendar for deets.
And the Mid City West Neighborhood Council has a light and fun week ahead with just 1 virtual assemblage and 2 in-person meetups on the sched. The week will start on Halloween, Monday, October 31, with Mid-City's free Día de Los Muertos Community Event at Pan Pacific Park Rec. Center from 4-8 p.m. (that's the fun I was talking about). Followed by weekly in-person Wednesday Walks on Wednesday, November 2, and a General Board meeting on Thursday, November 3. Click here to check MCW's calendar for details.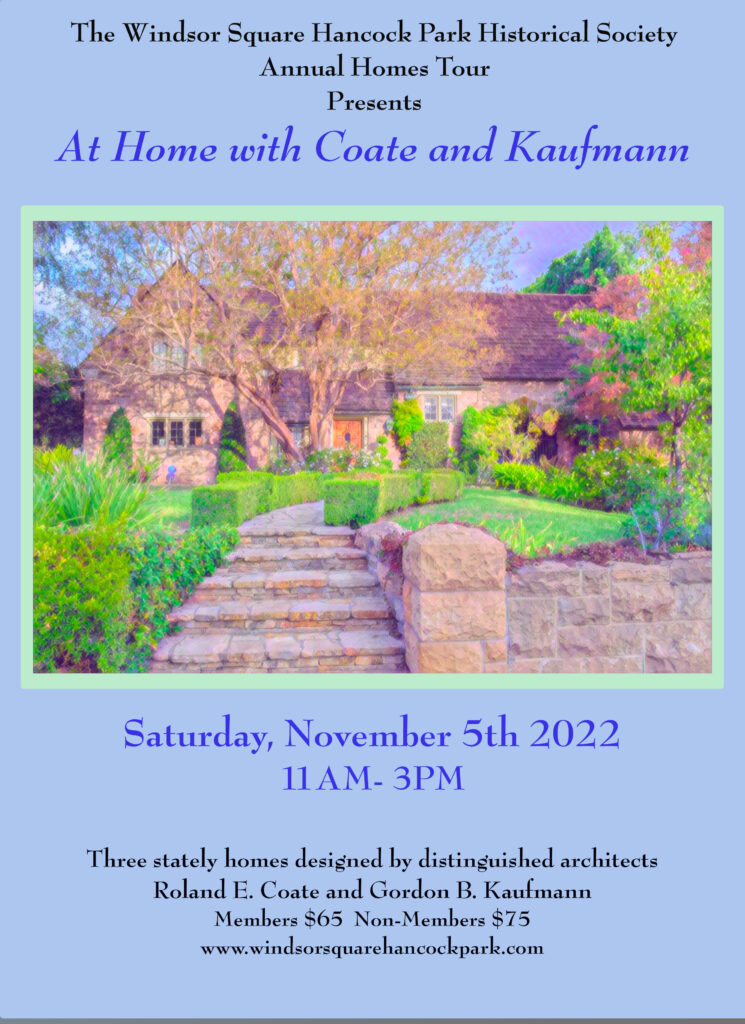 Lastly, I just wanted to give you a little heads-up to clear your schedule for next Saturday, November 5 from 11 a.m. – 3 p.m. because the continuation of the Windsor Square-Hancock Park Historical Society (WSHPHS) Home Tour has finally arrived. Like others in today's list, this annual event was put on a two-year hiatus and is now back and ready to receive "tourists" like you! This year's home tour features a selection of century-old houses opened up to you by the generous homeowners of one of Hancock Park's premier streets, Rimpau Boulevard. Fun Fact: Three of the homes were designed by renowned architect Gordon Kaufmann. Enjoy food and refreshments, and a silent auction. Location will be provided with the purchase of your ticket. Member tickets are $68 and Non-Members $78.
Julia is a native Angeleno and jack of all trades, having worked in television, visual effects, professional sports, health and wellness, and custom design. She currently resides in El Segundo.