What's up, fine people of this region?! We've got an eclectic mix of events for you this week that includes several  "annuals" and "back agains," which is a good thing because it means people liked them enough to actually want them back, along with some new stuff, too. So why not fill your spare time with one or two (or dare I say it, three? Live a little, eh?) of the happenings below. In brief, here are your options: a jazz fest, a moon fest, movies, dinosaurs, spiders, music, an estate sale and open house, The Taste of Larchmont HopeNet charity event, more jazz, local government meetings, and a vocal concert.
Arts, Culture, and Other Stuff
Indoor showings are back again at the Hollywood Legion Theater this weekend, starting tonight, Friday, September 16, with the godfather of classics, The Godfather (on 35mm).
Francis Ford Coppola's epic masterpiece features Marlon Brando in his Oscar-winning role as the patriarch of the Corleone family. The evening will also feature a conversation with actress Talia Shire (Connie Corleone) and film scholar Alan K. Rode. Movie starts at 7 p.m. Then head back on over to the Theater on Sunday, September 18 to watch silent film star Buster Keaton in The General (1926) with live musical accompaniment by Cliff Retallick! The movie starts at 1 p.m. and will be followed by a post-screening panel discussion. Tickets for either showing are $14-$18.
Next batter up is Chinatown's Annual Moon Festival, going down this Saturday, September 17 from 5 p.m.- 12 a.m. Come celebrate the full harvest moon while you give thanks for a "bountiful harvest" and share said generous bounty with family and friends. Traditional Chinese cultural demonstrations and performances by popular local bands make this celebration uniquely Angeleno and uniquely Chinatown, says the website. So just stop by and say hi, or stay for a while and enjoy the annual Moon Festival Ritual with mooncake demo and sampling, Shaolin Kung Fu, live music, a parade, Hanfu Show and Exhibition, the lion dance, the music of classical Chinese instruments, traditional dance, howling, and more! You'll also have a chance to take a peek at the full moon in all its naked glory through the lens of a telescope. This event is free and open to all.
Clear your weekend schedules, people, because this Saturday and Sunday, September 17-18, the Debbie Allen Dance Academy (DADA) and the Annenberg Foundation are bringing you the Sounds of Sandoval, a 2-day jazz festival led by 10-time Grammy Award-winning icon Arturo Sandoval! This will be the first official presentation in the Wallis Performance Space at the Rhimes Performing Arts Center (aka DADA's new home and cultural community center named after DADA benefactor and TV producer extraordinaire Shonda Rhimes), 1850 S. Manhattan Pl.. This exciting community event, celebrating Latin dance and music culture, will feature a cabaret-style concert by Sandoval and a salsa dance class/soiree led by the multitalented founder of DADA, Ms. Debbie Allen herself! Food and cocktails will be available for purchase before the concert on the 17th. Click here for the full schedule. Tickets range from $25-$140. DADA is a non-profit org. committed to expanding the reach of dance and performing arts to enrich, inspire, and transform the lives of thousands of young people around the world. 
Spiders and dinosaurs and openings, oh my! The Natural History Museum will mark the upcoming seasonal change with the opening of its Seasonal Spider Pavilion and Annual Dino Fest, both taking place on Saturday, September 18. Dino Fest is a one-day event celebrating (you guessed it) dinosaurs, their prehistoric past, and the science that "brings their world back to life." Meet world-renowned paleontologists as they talk about historic and ongoing fossil discoveries from around the world. Catch a glimpse of rare specimens, dig into hands-on activities, check out Dino Hall with the world's only T. rex growth series, and so much more. The Fest will be on from 9:30 a.m. – 5 p.m. Advanced reservations are encouraged.
And on that very same day, the NHM's one-of-a-kind Fall Spider Pavilion will blow visitors' minds with hundreds of orb weavers and their amazing webs immersing us in their world. Museum Educators will also be on hand to answer questions and feed you fun facts. The Spider Pavilion is open from 10 a.m. – 5 p.m. and will close on November 27.  It's free for members. 
KCRW Summer Nights is a collaborating genius and this time it's with The Geffen Contemporary at MOCA AND the Japanese American National Museum in Little Tokyo. This courtyard party will feature live sets from KCRW DJs, food trucks, a beer garden, and free after-hours access to both museums (I love stuff like this so much). Come dance and let loose on Thursday, September 22 from 6-9 p.m. with DJs Scott Dallavo and DJ Valida providing the soundtrack for the evening. The event is free and open to all, but please register here. P.S. A little BG on the venue: founded in 1979, MOCA is the defining museum of contemporary art. In a relatively short period of time, MOCA has achieved astonishing growth and a world-class permanent collection of more than 7,500 objects, international in scope and among the finest in the world.
Welcome to Parlour Estates at The Record Parlour! Yet another great 3-day music-oriented estate sale is going on this week, so I felt compelled to tell you about it. This killer Vintage Guitar Amp and Vinyl Collection, includes more than 50 rare guitar amps (nearly all working and in excellent condition) and 1000+ rock, soul & jazz records. This is the 40-year collection of a lifetime from "a true man of music collecting and performing." The sale will take place Thursday, September 22 – Saturday, September 24 at The Record Parlour at 6408 Selma Ave. in Hollywood. Buy yourself something pretty and own a piece of music history! Doors open daily at 8:30 a.m. and close at 5 p.m., so try to get there early for once. Line up position will reflect entry order – approx 50 people at a time.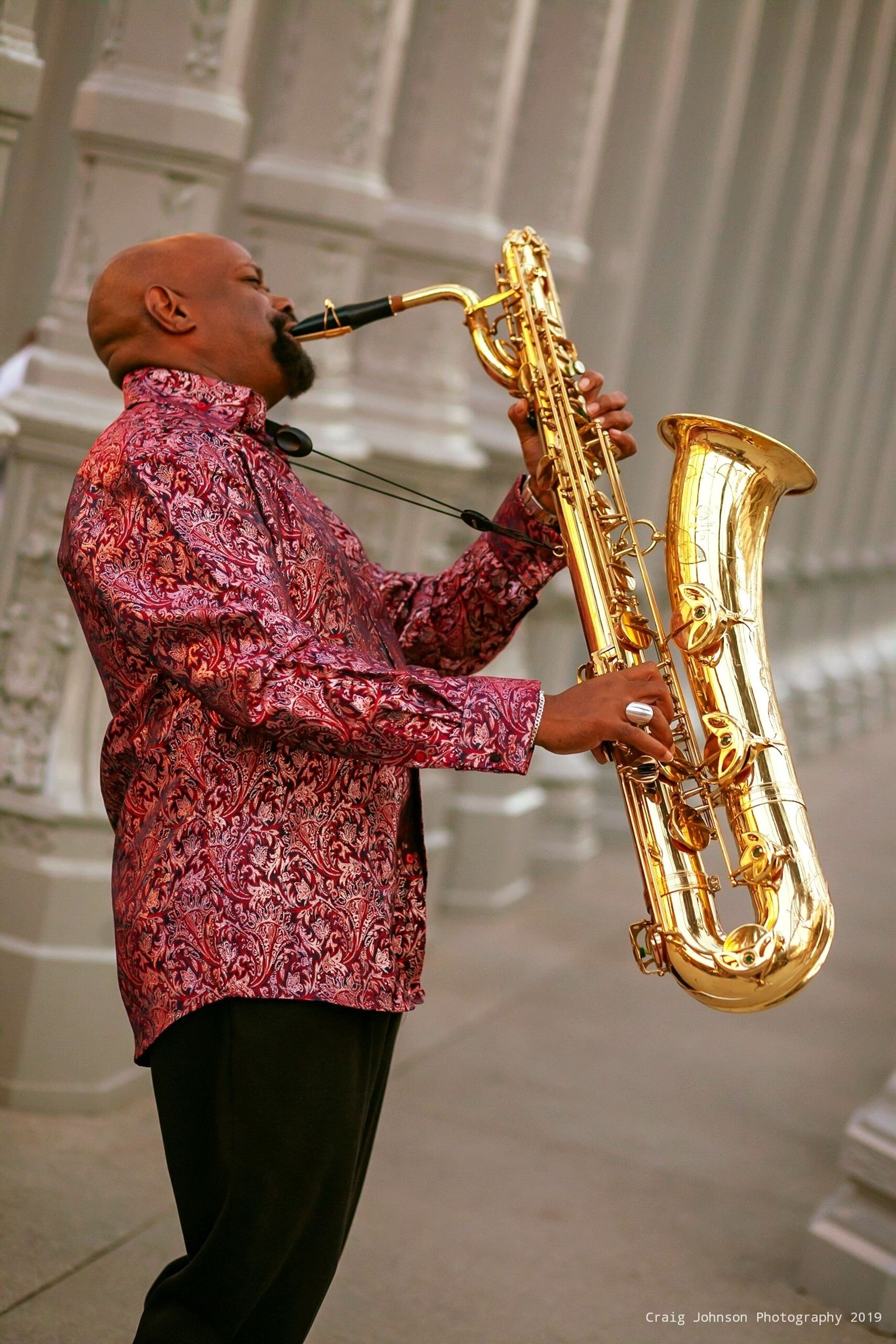 Jazz at LACMA won't be around forever, folks, so you best get it while it's hot! And it'll be hot (forecast says 91°) next Friday, September 23 when the Dale Fielder Quartet performs out on the Museum's main plaza from 6-8 p.m. For more than two decades, the DFQ has been a part of the jazz scene in SoCal and across the country. Fielder is a multi-instrumentalist best known for playing the baritone sax, and has recorded more than 14 chart-topping CDs. Over the course of his career, Fielder has worked with Geri Allen, Robin Eubanks, and Eric Reed. Seating is limited and first come, first served. Please note that masks are still required in all indoor spaces including restrooms. And why not go early to check out the museum's newest exhibits. The museum is closed on Wednesdays; daily hours vary.
 Charity and Community 
The Ebell of Los Angeles will open its doors to the public this Sunday, September 18 for its Annual Open House event taking place from 11 a.m. – 4 p.m. This historic institution will throw open its doors (their words), including those of the world-famous Wilshire Ebell Theatre, and invite you to tour the many "rich art, music, theatre, community service, and membership opportunities that are The Ebell." Admission is free; an RSVP is not necessary but appreciated. The Ebell is an educational and philanthropic organization founded by women, for women, in 1894, and its mission is to participate in and encourage the educational, cultural and social growth of the diverse Los Angeles community; and to conserve and protect its historic Clubhouse, collections and Wilshire Ebell Theatre.
Annual dues are $295 plus a one-time application fee of $40. And later that day, the Ebell Theater will also play host to Put Your Guns Down: A Vocal Concert by Tonality, an award-winning vocal ensemble, whose mission is to deliver "authentic stories through voice and body to incite change, understanding, and dialogue." Tickets range from $15-$50. Ebell members get a 15% discount. The show starts at 7 p.m. (Also, see our story here for more details on the open house.)
ATTENTION party people, and people who like buying tickets to community events that benefit charities:  The Taste of Larchmont is back on the Boulevard this year and it's turning 30!  After a two-year postponement (due to the thing we need not mention), HopeNet's annual fundraising event will be happening in Larchmont Village this coming Monday, September 19 from 6-9 p.m. Attendees will get to walk the street (bonus: exercise), with 15 Larchmont eateries at the ready to offer samples of food and drink. There will also be a raffle with tons of cool stuff donated by local businesses, and a silent auction. All proceeds benefit HopeNet, a local charity founded in 1988 that provides food, shelter, and self-help to individuals and families in Metro Los Angeles. Tickets are $55 per person. See our story here for more details.  
(And just a nice little FYI to finish off this section) What a coincidence! It's Thinking of You Week and I was just thinking about you! This international weeklong celebration (Sept. 19-25) of the magic of sending greeting cards exists to remind us all about the power of a handwritten note. Join in the fun by choosing seven people who deserve a card just because they do, and delight in how much it'll mean to them and you! Bonus: In honor of this special week, neighborhood darling and Larchmont staple, Landis Gifts and Stationery will be giving a 20% discount off select cards through the end of the week.
Local Government
Your local NC, the Greater Wilshire Neighborhood Council has just one meeting on the books again this week and it's an Outreach Committee meeting on Tuesday, September 20; zoom meeting starts at 6:30 p.m. Click here to view the calendar for deets.
And the Mid City West Neighborhood Council has six – count 'em, six – meetups on the sched this week, and it starts with the Planning and Land Use Committee on Monday, September 19. Followed by the Public Safety and Well-Being Committee on Tuesday, September 20; weekly Wednesday Walks and the Transportation and Sustainability Committee on Wednesday, September 21; and the Outreach and Civic Engagement Committee and Executive Council will both end the week on a high note on Thursday, September 22. Click here to check Mid City's calendar for details.
Julia is a native Angeleno and jack of all trades, having worked in television, visual effects, professional sports, health and wellness, and custom design. She currently resides in El Segundo.