The official start of summer is still a few weeks away, but I think it's safe to say that we're already there in our hearts and minds. Graduations are upon us and so is the need to get out there and enjoy life a little bit more (new year's resolution, anyone?), so how about actually doing it this week by attending one or some of the local(ish) events below. Check out American classics at the Gilmore Heritage Auto Show at the Farmers Market, experience the LA Phil's Power to the People! festival, take the kiddos to a classic cartoon marathon at the Hollywood Legion, or dust off those long-forgotten roller skates and head over to the Sunset Strip. The world is your oyster!
Arts, Culture, and Entertainment
Attention vintage car fans and people who like doing stuff, the Gilmore Heritage Auto Show is back this Saturday, June 4 from 11 a.m. – 5 p.m. Head over to the Original Farmers Market on Third and Fairfax for the 26th annual celebration of nearly 100 American classics on display throughout the Market. From the famous to the notorious, owners of American luxury vehicles traveled like kings and queens, which leads us to this year's theme, "American Royalty," paying tribute to Cadillacs, Imperials, Lincolns, Packards and the long-forgotten Duesenberg. There will also be plenty of other classics, customs, hot rods and trucks to feast your eyes upon, so be there or be square. Bonus: The Market's Summer Music Series is back in action every Thursday evening from 6-8 p.m. 
In conjunction with the special exhibition Takashi Murakami: Stepping on the Tail of a Rainbow, The Broad presents Houses of Zodiac, a series of live cello solos and dance made up of composer Paola Prestini, cellist Jeffrey Zeigler, Sankai Juku dancer Dai Matsuoka, New York City Ballet dancer Georgina Pazcoguin, and filmmaker Murat Eyuboglu explore "the intersection of mind, body, and nature" – themes mirrored in Murakami's recent artworks. Tickets include access to both Takashi Murakami: Stepping on the Tail of a Rainbow and This Is Not America's Flag, along with the third floor galleries June 1–12, during operating hours. This week's performances will take place on Saturday and Sunday, June 4-5.
The LA Phil's Power to the People! festival continues at the Walt Disney Concert Hall with Canto en resistencia on Saturday, June 4. Watch and listen as the sounds of protest take center stage with Gustavo Dudamel at the helm, and music by Angélica Negrón and a world premiere by Victor Agudelo. Special guest singers will also join the orchestra to celebrate iconic protest music from Latin America and the U.S., ranging from pro-democracy, workers' rights, and tonada songs made famous by legendary artists, to more contemporary ballads that resonate with today's activists. This performance will be followed by several more concerts, an artmaking workshop for teens, and dynamic conversations throughout the week. Click here to view the LA Phil's full calendar of events.
If you love gardens as much as I do, then you definitely won't want to miss the Windsor Square Hancock Park Historical Society's Garden Tour happening this Sunday, June 5 from 1-5 p.m. This year, the tour will showcase five beautiful local gardens in the Windsor Square, Hancock Park, and Brookside neighborhoods, with docents available at each garden. Enjoy a plant sale, silent auction, music, and refreshments as you enjoy a lovely southern California day outdoors. The fun begins at 166 S. Plymouth Blvd. Tickets may be purchased online or on-site at the tour's starting point on Plymouth Blvd. The cost is $40 for members and organization partners, and $50 for the general public. Cash or credit card payments will be accepted. (And before you go, be sure to read our story about the Bridge House – one of the residences featured on the tour!)
The Greatest Cartoons Ever! marathon is back, so clear your Sunday, June 5 schedule for a cartoon-filled, family fun-time afternoon at the Hollywood Legion Theater. Thanks to a new partnership between the Alex Film Society, the Hollywood Legion Theater and Hollywood Heritage Museum, this 10th edition of classic animation screenings from Hollywood's Golden Age will leave you feeling more nostalgic than ever. Featuring tributes to animation pioneers Tex Avery and Dave Fleischer, you'll get to see many of your fav characters, including Bugs Bunny, Popeye, Woody Woodpecker, and Betty Boop, plus a special appearance by Superman! Tickets are $16 for adults, $12 for students and seniors, and $10 for kids 11 and under. Parking is free, courtesy of the Hollywood Heritage Museum located across the street. Showings begin at 2 p.m. 
And yet another great program, Craft Youth Culture 2021-22 Celebration and Catalog Launch, courtesy of the folks at the Craft Contemporary, will begin on Sunday, June 5 from 1:30 – 3:30 p.m. This year, the teens worked with artist Patrick Michael Ballard to create, learn, and collaborate. If you are a highly motivated 9th-12th grade student who is interested in applying for the Craft's fall class, come to the event and visit the Teens page to learn more about this free after-school program. The event will be in-person and held in the museum's courtyard. Advanced RSVP is required. 
The LA Phil's Power to the People! festival moves to the California African American Museum this week for a Reading and Conversation with Saul Williams At CAAM on Thursday, June 9 at 7 p.m. After gaining global fame for his poetry and writings at the turn of the century, multi-hyphenate, multidisciplinary, and in-demand artist Saul Williams has been breaking ground for more than 20 years. Williams has performed in over 30 countries and read in over 300 universities, including invitations from the White House, the Sydney Opera House, the Louvre, and the Getty Center, to countless villages, community centers, and prisons around the world. Join Williams for a combined reading and conversation about the intersection of art and politics in America. This event is free and open to the public. 
The heyday of roller rink parties and Day-Glo midnight discos may be a thing of the past, but it doesn't have to be thanks to LA's newest outdoor roller rink! The Sunset Strip Business Improvement District, in partnership with Visit West Hollywood, is bringing "nostalgia, music and life" to the Strip with The Roller Rink at Summer on Sunset. The rink will be popping up next to the iconic Carney's beginning this Saturday, June 10 – August 27. Follow @thesunsetstrip and @visitweho on Facebook and Instagram to stay up-to-date on additional ticket releases, DJ nights, and special events, including "top-tier" brand takeovers and exclusive collector's merch! The rink will be open every day starting at 2 p.m. Weekend tickets start at $18.50; weekdays start at $12.50.
Community and Conservation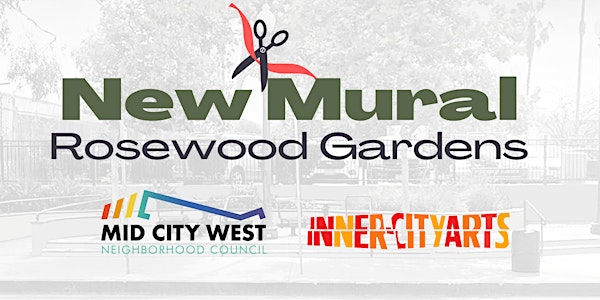 Join the Mid City West Neighborhood Council at Rosewood Gardens on Sunday, June 5 from 9-10 a.m. for a Mural Ribbon Cutting Ceremony to celebrate the new mural and final phase of this city beautification project at Rosewood Gardens, created by the talented artists of Inner City Arts. The ceremony is meant to recognize the artists and supporters who made this new mural possible. Coffee (donated by the friendly folks at Cofax) and light refreshments will be provided. The park is located at the corner of Rosewood and Fairfax Avenue. Find event details and RSVP link here.
On Monday, June 6, The Ebell of Los Angeles will be honoring this year's 16 Rest Cottage Association grantee organizations, "who all share the Ebell's mission and work continually to achieve it," at the Annual RCA Grantee Luncheon.  The theme is "Planting the Seeds of Kindness" A celebration of what kindness to others can achieve. Don't miss this opportunity to meet and honor the representatives of these wonderful organizations for all the outstanding work they do. Reps from three of the charities will share their stories. The luncheon starts at 11:30 a.m. Tickets are $35 per person. The RCA is the oldest philanthropic organization operating within the Ebell of Los Angeles.
Holla! Bat Roost Counts are back in business! The Natural History Museum of LA County is teaming up with the SoCal Bat Working Group for a blitz of bat-counting throughout LA County on Friday and Saturday, June 10-11, with an emphasis on the Los Angeles and San Gabriel Rivers. The data collected will inform local bat conservation and support a national effort to document bat roost activity throughout the country. You'll be part of a small team of community scientists counting the number of bats that fly out of a roost. Volunteer for one or both days! The minimum age requirement is 10 years old. See registration links for location, site information and accessibility.
Local Government
Your local NC, the Greater Wilshire Neighborhood Council has just two meetings on the books this week for the Sustainability Committee on Tuesday, June 7 at 7 p.m., followed by the General Board meeting on Wednesday, June 8 at 6:30 p.m. Click here to view the calendar for details.
And the Mid City West Neighborhood Council will wrap up our events list with two gatherings, starting with the HRRRTs Committee (Homelessness, Refugees, and Renters' Rights) on Monday, June 6, followed by weekly Wednesday Walks on Wednesday, June 8. Click here to check Mid City's calendar for details.