Welcome to fall, y'all! OK, I'm from Southern California not the actual South, but it rhymes so there you have it. Anyhoo, with important elections coming up and all the lead up to this special day (Election Day – Tuesday, November 8), people are probably looking for something a little more relaxed and fun to do and think about. And that's where I come in, to share and spread the good word of local happenings and gatherings like the one mentioned above. This is also where I usually list such events, but I'm gonna make you work for it this time 'round. Happy reading!
Arts, Culture, Food, and Nature
Start your week off right and treat yourself to a peaceful day (or two) of Birding at the Natural History Museum, this Saturday and Sunday, November 5-6. Join your fellow nature lovers at the NHM's Nature Gardens for a special bird watching program, anytime between 11 a.m. – 12 p.m,, to see what native LA birds might be out and about. From butterflies to birds, every bush, flower, and tree in the Nature Gardens was planted with animals in mind, with special platforms setup for viewing. No tickets required. And be sure to check out the museum's exhibits before or after your birding experience. Regular museum hours are 9:30 a.m. – 5 p.m., daily. Tickets range from $7-$15. Advanced, online tickets require a date selection and are highly recommended. LA County residents get free admission M-F, from 3-5 p.m.
The Academy Museum is bringing it this week with another Lil' Libros event on Saturday, November 5: Día de Muertos with Lil' Libros Book Signing and Family Workshop, from 1–3:30 p.m. Hang with the authors of  these Lil' Libros books that celebrate this cultural holiday, La Catrina: Emotions/Emociones (introduces children to emotional expressions in both English and Spanish), and Where is?/¿Dónde está? Mi Ofrenda (a search-and-find book that teaches kids how to build their family altar). Afterwards, head over to a mini printmaking workshop where attendees can create prints inspired by the work of José Guadalupe Posada, the creator of the famous "La Calavera Catrina." Tickets come in 2 packages; the first one includes one adult ticket, two books, access to the reading, book signing, and workshop, plus admission to the museum for $39; option 2 includes everything but museum admission for $24. Bonus: catch a screening of COCO before the event at 11 a.m. in the Ted Mann Theater. 
The Los Angeles County Museum of Art (LACMA) has an all-star week of its own starting on Saturday, November 5 with art classes & camps, docent-led gallery tours, film series screenings, and Autumn Delights: An Evening of Art & Korean Tea, to name a few. Experience the "awe-inspiring" art of Park Dae Sung while sipping tea native to Korea with tea master Kioh. Presented in conjunction with Park Dae Sung: Virtuous Ink and Contemporary Brush and The Space Between: The Modern in Korean Art on Tuesday, November 8 from 7-8 p.m. in the Resnick Pavilion. The cost is $20 for members and $25 for everyone else. And don't forget about Jazz at LACMA with Chuck Johnson's Jazz Coalescence to end your week on a high note (see what I did there) next Friday, November 11 from 6-8 p.m. Join saxophonist Chuck Johnson for "Voices of the Saxophone," saluting the 100th anniversary of Illinois Jacquet and Dexter Gordon, along with many other greats, including John Coltrane. Seating is first come, first served. Click here for LACMA's full schedule of events.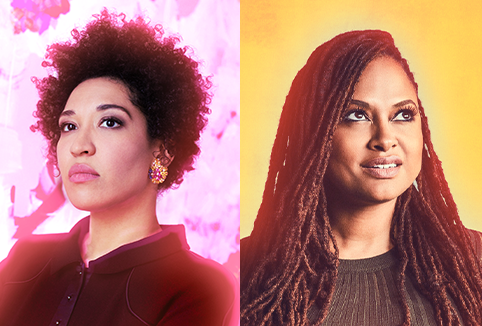 It seems like forever since an LA Phil happening has graced these pages, so I'm delighted to announce the Rock My Soul Festival at the Walt Disney Concert Hall this Saturday evening, November 5 at 8 p.m. and Sunday afternoon, November 6 at 2 p.m. Celebrating Black Women Artists in Collaboration and Community, and curated by Julia Bullock and Ava DuVernay's ARRAY, the Rock My Soul festival was inspired by the friendship between composers Florence Price and Margaret Bonds, whose mutual support helped them break down barriers to have their music heard in the classical music world of the early 20th century. And be sure to "Enhance Your Experience" with free pre-concert events at 7 p.m. and 1 p.m., respectively. Come listen to the "sharpest musical minds around", including members of The Phil, guide you through the evening's music, complete with a Q&A. P.S. The Festival continues on Fri and Sat, Nov 11-12; check the calendar here.
Local favorite Chevalier's Books has four more in-store this week starting on Monday, November 7 with Book Talk! Portraits by travel writer Tom Lutz (part of the Chevalier's Books Events collection). After years of traveling around the world, Lutz has connected with many people through his portraits, even when no common language was shared. Then on Wednesday, November 9, come on in for another Book Talk! The Foghorn Echoes by Danny Ramadan. Hussam and Wassim are teenage boys living in Syria during America's invasion of Iraq in the early 2000s. When a surprise discovery results in tragedy, their lives, and those of their families, are shattered. The Foghorn Echoes is a tragic love story about coping with shared traumatic experience and devastating separation. Danny Ramadan is an award-winning Syrian-Canadian author, public speaker, storyteller and LGBTQ refugee activist. Check Chevalier's calendar for the full schedule.
Very local food event alert! Head over to Larchmont's very own Café Gratitude for a Unique & Delicious Collab Dinner Party this coming Thursday, November 10. Join celebrated plant-based chef Anne Thornton (known for creating delicious, nutrient dense, plant-based food to help people easily heal themselves), along with the Café's Executive Chef (and founding chef at Le Spighe, the first vegetarian restaurant in Venice, Italy) and Seizan Dreux Ellis as they come together for their second collaboration on a seasonal squash four-course dinner!  Guests will enjoy an evening of fresh, plant-based ingredients beautifully crafted into fall-inspired dishes by the duo with the option to pair the menu alongside natural wines personally selected by Sommelier Taylor Grant. Tickets are $50 per person, with the option to add special wine pairings on each course for an additional $15. Dinner starts at 7 p.m. sharp, so be there or be square!
And here's another gem from the Academy Museum this week, in the form of an E.T. the Extra-Terrestrial: The Ultimate Visual History book signing on Friday, November 11 from 5-7 p.m. "The definitive account of the motion picture phenomenon and a must-have for fans of the beloved Steven Spielberg classic" ('nuff said). Documenting the complete history of E.T., the book explores Spielberg's initial inspiration for the story, the challenging shoot, and the record-breaking success, as well as the film's endurance; with exclusive interviews, visual treasures, and never-before-seen imagery from the Amblin Entertainment archives, including on-set photography, concept art, storyboards and more! Tickets are $60 for access to the event and a signed copy of the book; or $71 for access to the event, a signed copy of the book, and a limited-edition tote bag featuring exclusive artwork from the book.
New special exhibit alert! I'm a little late to the game on this one, but – as they say – better late than never. Bruce Springsteen Live! opened at the Grammy Museum on October 15, bringing the evolution of this superstar to life by creating an immersive experience of the legendary Bruce Springsteen and the E Street Band. The exhibit will feature 49 years of iconic artifacts, live performance footage, instruments and stage costumes, exclusive interviews, concert posters and photography, as well as unique interactive displays that transport fans into mind of The Boss himself. Learn about the band's creative process and how they prepare for concerts and tours, and even create your own encores. Bonus: become part of the exhibit by submitting a video of any live Springsteen concert you've been to. Excerpts of this will be part of a new exhibit film and can be seen throughout the gallery. The exhibit runs through April 2, 2023. Tickets are $12-$18 and free for kids 4 and under. The Museum is closed on Tuesdays.
Local Government 
Your local NC, the Greater Wilshire Neighborhood Council has just one gathering this week and it's a General Board meeting on Wednesday, November 9 at 6:30 p.m. Click here to view the calendar for deets.
And the Mid City West Neighborhood Council has another light week ahead with just 1 virtual and 1 in-person meetup on the sched. The week will start on Monday, November 7 with the Homelessness, Refugees, and Renters' Rights Committee meeting, followed by weekly in-person Wednesday Walks on Wednesday, November 9. Click here to check MCW's calendar for details.
Julia is a native Angeleno and jack of all trades, having worked in television, visual effects, professional sports, health and wellness, and custom design. She currently resides in El Segundo.