As we collectively shake our heads and mutter, "Man, is it almost the end of the month already?!" – we should all come to the same conclusion, and that is, "yes." And with those other holidays right around the corner, we must take advantage of our time now and enjoy the Halloween season while it lasts. Below, you'll find a bevy of unique seasonal happenings, along with a few more traditional activities like slasher films, pumpkin carving, and pig races nearby. There are enough book events and community celebrations to fill your entire week, as well, so there should be a little something for everyone, no?
Happy Halloween 
Ah, the '80s, big bangs and no smartphones, those were the days. And if you're waxing nostalgic right alongside me, the Million Dollar Theater (on Broadway in DTLA) will be hosting a Slasher Cinema: Totally '80s night this Saturday, October 22. Join Street Food Cinema for an '80s Halloween experience that includes two screenings of the OG Nightmare on Elm St., an underground haunted walkthrough, music and games, a full cash bar, and most important of all, photo opps! Outside food from Grand Central Market is allowed, but no outside alcohol. Advance/Door tickets: general admission $32/$37; reserved section $42/$47. Early screening doors at 5 p.m.; movie at 6:30 p.m. Late screening doors at 8 p.m.; movie at 9:30 p.m. P.S> Costumes are not required, but highly encouraged. Hey, you may even win a few prizes.
And the Original Farmers Market (yes, the one on 3rd & Fairfax) is excited to announce the return of its beloved seasonal affair, aptly named Fall Festival. Join your fellow Angelenos on Saturday and Sunday, October 22 and 23 for LA's favorite harvest festival complete with pumpkin patch, fall-themed games, petting zoo, live music, face painting, pig races, and good old-fashioned family fun! Do some shopping before or after and grab a bite and drink at one of the many great restaurants at the Market or Grove. Festival hours are 11 a.m. – 7 p.m. Click here for event flyer.
Good News!! The Heritage Square Museum Halloween is back, and providing the real life spookies on Cemetery Lane this coming Thursday, October 27 through the end of the month. Explore a neighborhood of Victorian manors and other haunted homes, where the residents are just dying to help you celebrate Halloween (insert evil laughter audio). Trick-R-Treat from 13 creepy stops and discover the mysteries of  this living museum with a vintage Halloween experience! Tickets: General Admission (Late Hours): $32 / General Admission (Early Hours): $27. Please note that tickets are valid only for date and time specified for entry. Entry is at 3515 Pasadena St.
Looking for something unique and cool to do that you can brag to your friends about? Then look no further than Lucha VaVOOM's Bienvenido a la Twilight Zone at The Mayan Theatre in DTLA on Thursday and Friday, October 27-28. "There is a dimension beyond that which is known to ordinary mortals. It is a dimension as vast as space and as timeless as infinity; a place of epic throwdowns and steamy burlesque; of madness and ecstasy, hallucination and hypnosis. This is the dimension of imagination." Lucha VaVOOM brings its unique mix of sexo y violencia to the Mayan with its Halloween-themed "exuberant spectacle." See good vs. evil played out with a circus of masked Mexican wrestling, burlesque stripteasing and comedic commentating. And fatten up on tequila and tamales while you watch Aztec dancers and luchadores. Sounds like my kinda night! Tickets are $45-$60.
It's Alive!! Frankenstein with Live Orchestra that is, presented by the LA Opera and Ace Hotel is back with its hugely popular annual Halloween mash-up of film and opera happening in the hotel's theater. This year it's the Boris Karloff 1931 "masterpiece" on the big screen, complete with mad scientist, bumbling henchman and mob of torch-bearing villagers! The film was originally released without a musical score, which inspired composer Michael Shapiro to fill in the void by creating an original new soundtrack, which he'll be conducting live with the LA Opera Orchestra. So cool! Show dates are Friday and Saturday, October 28-29. Tickets are $49-$124 and selling fast! Showtime at 8 p.m.
Books, Community, and Local Government 
"The stories of LA. All day. All in one place." is the tagline for the 17th Annual Los Angeles Archives Bazaar, happening this Saturday, October 22 from 10 a.m. – 3 p.m. Make your way over to the Doheny Memorial Library on the USC Campus for the "LA As Subject" consortium, and seize your opportunity to browse through dozens of archives, from large institutions to private collectors. Come discover the diverse and often obscure stories that make LA such a fascinating place! And in addition to archive browsing, the bazaar will feature workshops on preserving fragile books, discussions on the World War II-era Nobel Prize-winning author Thomas Mann, and the work done by the youth-focused community arts organization Color Compton. This event is free and open to the public. On-campus parking is available for $20.
Help Celebrate the history and influence of LA residential architecture with the Friends of Residential Treasures (FORT) Fundraiser at the Candy Castle, this Saturday, October 22. The Venue: a 1931 Spanish-Colonial Revival masterpiece in Los Feliz. The Evening: enchanting cabaret performance by legendary artist and performer Tequila Mockingbird; silent auctions offering delicious experiences; live raffle with edible prizes; gift bags with tasty treats, and lots of candy and cocktails! Tickets start at $25 for student rate (limited to first 25), and $250 for individual tickets. The soiree will start at 6 p.m. and wrap up around 9ish. Lean more about FORT LA here.
If you're not doing anything this Sunday, October 23, and are in the neighborhood, would you want to come celebrate Melrose Trading Post's 25th Anniversary with me? At least come for the brunch and live painting collaboration between Melrose street artists and Fairfax High School art students, and stay for WeHo Mayor Lauren Meister, a student performance from "Hamilton," a costume contest for your pooch, and more! Fun Fact: MTP is not just a flea market, it's been an ongoing mega-fundraiser for students at Fairfax High and other LAUSD schools for 25 years! (Our own Wilshire Crest Elementary School had a booth there last week.) Founded in 1997 by local artists, and non-profit Greenway Arts Alliance, MTP is a nationally recognized model for successful public/private partnerships in public education. Festivities will take place from 11:30 a.m. – 1 p.m.
To protect and to serve… and to throw a little anniversary party! Come on down to your local Wilshire Community Police Station as it celebrates its 100 year-anniversary in the neighborhood with an Open House this Sunday, October 23 from 11 a.m. – 4 p.m. Hang with LAPD Wilshire Division's finest, while you enjoy station tours, meet and greet with commanding officers, check out vintage vehicles, visit a Mobile Command Post, meet Council District reps, and learn about your community police station's history. Sounds like a learning experience to me! The station is located at 4861 Venice Blvd.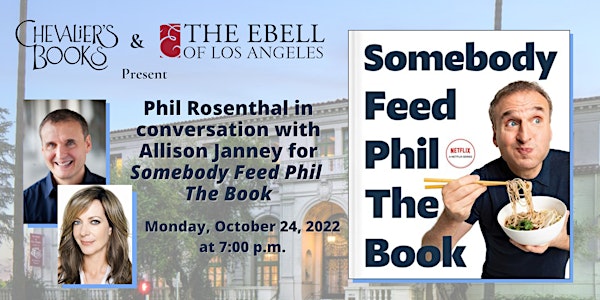 Chevalier's Books at the Ebell Theatre is going down this week, people! What what! So come meet Phil Rosenthal, star of Netflix's hit show "Somebody Feed Phil," and special guest Allison Janney for a sixth season episode screening and book discussion of Somebody Feed Phil: The Book on Monday, October 24 at 7 p.m.  There are still a few tickets left, but hurry! The cost is $40 and includes an autographed copy of the book; a collection of must-have recipes, stories, and behind-the-scenes photos. Chevalier's has a slew of other offerings on the calendar this week, too, including Storytime on Saturday, October 23 and a few in-store book talks. Check Chevalier's full calendar here. 
Lots of other local shindigs happening this week, too, including the Ebell's Charter Day Luncheon and Pop-Up Exhibit on Monday, October 24. Step into a history lesson as the Club unveils its pop-up museum celebrating 128 years of Ebell women building, serving, and inspiring! Featuring carefully curated objects from its collections and writings from its archives, the display will highlight milestone Ebell events including the founding, the details and development of the current campus, Ebell activities supporting the war efforts, and more. Please note that The Ebell of LA requires all members and guests to be fully vaccinated and up to date to attend in-person programs. Tickets are $45 for members and $60 for non-members. The day begins at 10 a.m. and ends around 4 p.m.; luncheon at noon.
Your local NC, the Greater Wilshire Neighborhood Council has just one meeting this week and it's a Land Use Committee get together on Tuesday, October 25 at 6:30 p.m. via Zoom. Click here to view the calendar for deets.
And the Mid City West Neighborhood Council has a light week ahead with just 2 virtual assemblages and 1 in-person meeting to wrap up TWA, starting with the Social and Racial Equity Committee on Tuesday, October 25. Followed by weekly in -person Wednesday Walks on Wednesday, October 26, and the Executive Council on Thursday, October 27. Click here to check MCW's calendar for details.