Guten Tag! So much Halloween to choose from this month, it's hard to edit, so I've given the holiday its own section and there will be even more to come as the month progresses. You just wait and see. I also totes begotes forgot that it's Oktoberfest season as well, but did remember in time for this article (phew!). You can also enjoy some of your favorite staples and recurring events this week, too, like Jazz at LACMA, CicLAvia, Cocktails in Historic Places, and community empowerment deelies to name a few. Anyhoo, that's all for now, hope to see you next week at the same bat-time, same bat-channel. Ta-ta!
Arts, History, and Family Stuff
If you don't already have plans this Saturday, October 8, now you do! Bring yourself and the kids over to the Academy Museum to meet illustrator and children's book author CHOGRIN. Enjoy a reading and signing of Lil' Libros book Kid del Toro, a tale of a boy who loves monster books and learns to face his fears when he meets a real monster face to face. After the reading, there will be a Mini Monster Workshop, where participants can create mini monsters with foam clay – crafts, yay! There are 2 ticket options for this event; Option 1 ($33) includes: 1 adult ticket + up to four children's tickets; 1 book; access to the reading, book signing, and workshop; plus admission to the museum. Option 2 ($18) includes everything except admission to the museum. The Reading and Book Signing will take place in the Lower Level Lobby from 11 a.m. – 1 p.m. The Workshop will be in the Shirley Temple Studio from 12:30-2:30 p.m. CHOGRIN is an artist and storyteller from Guayaquil, Ecuador. His work is inspired by classic animated cartoons, comics, film, video games, and latin-american folklore.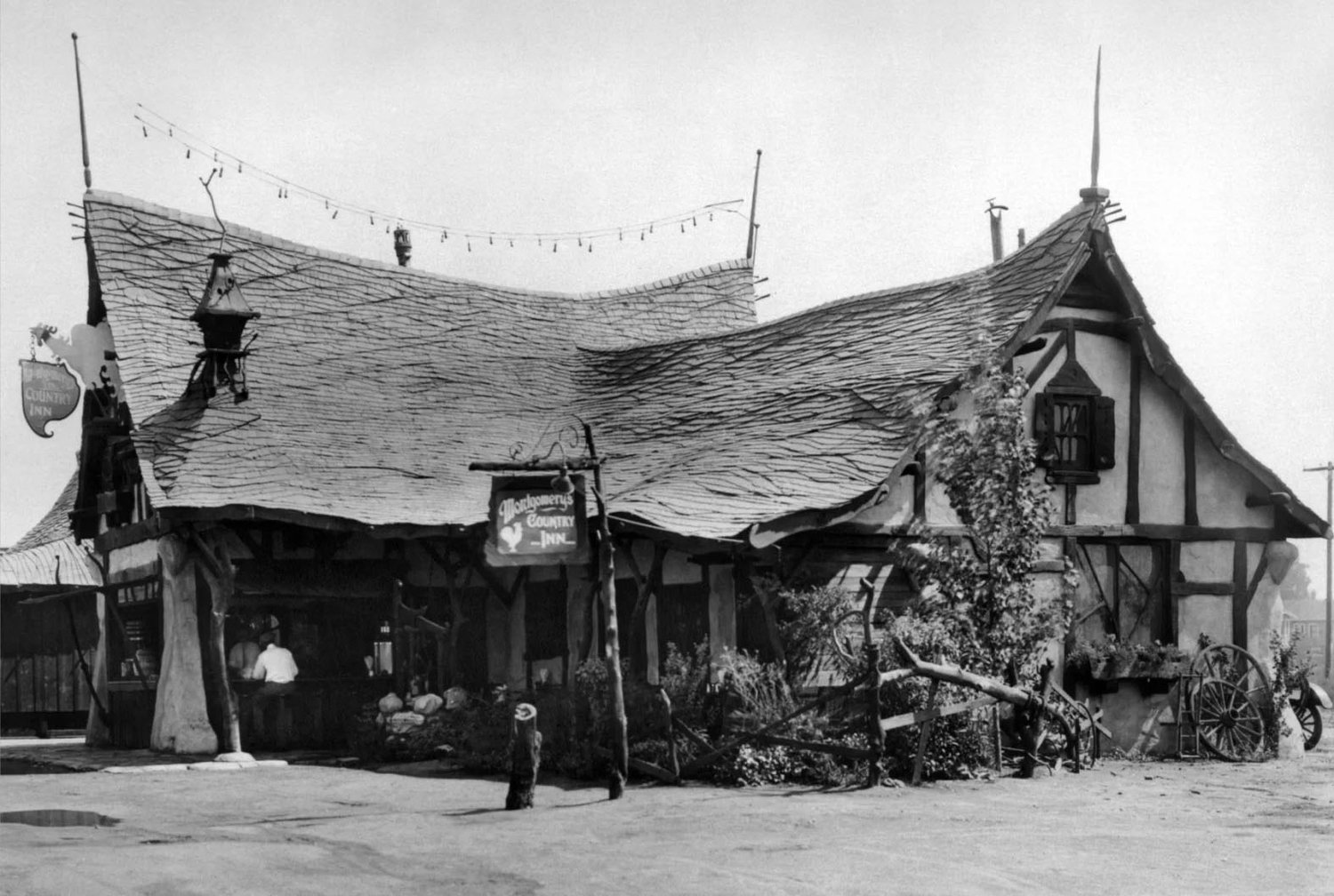 Slàinte Mhath! (Slanj-a-va) to Cocktails in Historic Places® at the Tam O'Shanter on Sunday, October 9 with the Art Deco Society of Los Angeles! Join the ADSLA for no-host cocktails in celebration of the Centennial of this iconic Scottish restaurant, the oldest in Los Angeles to be operated by the same family in the same location. In 1922, Walter Van de Kamp and Lawrence Frank, the founders of Van de Kamp's Bakeries and the Lawry's restaurant chain, commissioned architect and set designer Harry Oliver to build this storybook-style roadside restaurant, whose original name was Montgomery's Country Inn. It was renamed in 1925 to the Tam O'Shanter Inn, after a family favorite Robert Burns poem. It doesn't look quite like the photo these days, but retains all of its Old World charm. The evening will commence at 5:30 p.m. and wrap up around 8:30 p.m. (or whenever). Vintage Scottish attire is encouraged. Fun Fact: The Tam was a favorite lunch spot for many Hollywood elite, including Walt Disney and John Wayne…and – bonus – they sell CC Brown's Hot Fudge Sauce, too. 
Inspired by the Ciclovía events that started 45 years ago in Bogotá, Columbia, CicLAvia is back in the Heart of LA, happening this Sunday, October 9 from 9 a.m. – 4 p.m. Cruise up and down seven miles of open DTLA streets without the noise and pollution of cars, and breathe in the fresh air while you can. This is a free event for humans of all ages and abilities, with only people-powered vehicles allowed (motorized wheelchairs are the exception). Jog, ride, bike, skate, run, walk, dance, skateboard, and show up anywhere along the route at any time. And be sure to check out the many local gems along the way, including Grand Park's 10th Anniversary Celebration! CicLAvia helps communities re-imagine a greener and cleaner Los Angeles, while also promoting equitable transportation options, healthier lifestyles, and closer connections to community. 
LACMA has yet another interesting exhibit opening this weekend and it's Scandinavian Design and the United States, 1890–1980; the first exhibition to examine the extensive design exchanges between the United States and the Nordic countries (Denmark, Finland, Iceland, Norway, and Sweden) during the 20th century (shout out to my great-grandfather Christiansen from Denmark, hej!). Opening on Sunday, October 9, the display will present a "new international story", featuring accounts of Scandinavian designers who immigrated to the United States; Americans who studied or worked in Nordic countries; the ambitious campaigns to market and export Scandinavian design to American consumers; and the American and Nordic figures who championed sustainable and accessible design practice. The exhibit will close on February 5, 2023. Regular museum hours vary; closed on Wednesdays.
I decided that these two separate jazz events should be together, and they're only a day apart, so everything works out. First up for this jazz shout-out is an Evening of Jazz at The Ebell on Thursday, October 13, featuring award winning students from the Music Department of the Los Angeles County High School for the Arts (LACHSA).
The program will feature a "dazzling array" of jazz standards as well as new works composed and performed by these talented young artists. The cost is a 'give what you can' donation. Performances start at 7 p.m. Next up for all you jazzercisers is a recurring event that never disappoints, and it's Jazz at LACMA on Friday, October 14. This week's session is brought to you by the Ben Williams Band. Considered one of the most acclaimed and versatile bassists in modern jazz, Williams has performed and recorded with such giants as George Benson, Lauryn Hill, and Wynton Marsalis! The magic happens from 6-8 p.m. Seating is limited and first come, first served. Jazz at LACMA is back every Friday evening in the museum's main plaza through December 2.
Oktoberfest and Halloween
As noted above, there are a lot of Halloween-themed events coming at us this week, but the way we in Larchmont REALLY know it's the season is the opening of the Rotary Pumpkin Patch…which will happen at 568 N. Larchmont Blvd. at 10:00 a.m. tomorrow, October 7.  In addition to mountains of everyone's favorite orange globes to pick from, there will also be a visit from an LAFD fire truck at 2 p.m.  
An LA Halloween favorite is back again! The Haunted Hayride at Griffith Park is now open and ready to deliver the heebie jeebies. The fictional town of Midnight Falls and its ghoulish inhabitants are just waiting to terrify you almost every day of the week, but tickets sell out fast, especially for the weekends, so buy them now. The event is open now through Halloween; time-reserved tickets are required and range from $30-$110. Please note that the event may be inappropriate for kids 12 and under. Also note that the time slot you select during purchase is the time you enter the Hayride line. You can enter the event grounds anytime during operating hours to enjoy all the other attractions at the event. Shuttle parking is available; check the website for deets. And I couldn't find exact hours on the website but my powers of deduction tell me it's open from around 6 p.m. to midnight.
Beetlejuice Beetlejuice Beetlejuice! The magic of Tim Burton comes to the grounds of The Autry with a screening of Beetlejuice at Street Food Cinema on Saturday, October 8. The grotesque yet lovable title character, played brilliantly by American treasure Michael Keaton, will be sure to get you in the Halloween spirit. Bring a blanket and cozy up to loved ones as you take in one of your favorite movies, as the Autry lawn becomes an open-air movie theater with a huge screen. There will also be a bunch of food trucks, live music, pet costume contests (every event is dog friendly), a photobooth, giveaways, and more! Select museum galleries will be open before each screening. Tickets are required, and space is limited, so stop lagging and get on it! Tickets range from $10-25. "Doors" open at 5:30 p.m. and the movie's at 8 p.m. P.S. – Limited free tickets for members are available.
I have to admit that I've never heard of "the biggest genre film festival in the nation," Beyond Fest, until last week, but I'm still happy to report it will have its most extensive line-up ever this year! This special 10th anniversary slate includes 63 features, with world premieres of Halloween Ends, My Best Friend's Exorcism, Christmas Bloody Christmas, Special Screenings of Hellraiser, Smile, and The Menu; in-person tributes to Park Chan-wook and William Shatner, as well as a tribute to "IMAX's creative and technical excellence featuring a rare quartet of repertory screenings." In partnership with the American Cinematheque, Beyond Fest will screen at several legendary theaters around town, such as the IMAX at the TCL Chinese, Hollywood Legion, Aero, and Los Feliz 3. Check out the full schedule here. Screenings are on Now – Tuesday, October 11, so come experience "the most inspired and eclectic cinema" from across the globe! 
Another genre film festival, yay! America's largest and longest running horror film festival, the Scream Horror Film Festival to be exact, will be happening October 11-20 at the TCL Chinese 6 Theatres at Hollywood & Highland. Specializing in horror, thrillers, and sci-fi movies from all around the world, Screamfest creators work with other festivals, film archives, cinemas, and filmmakers to spotlight lesser-known films in "an ongoing effort to grow recognition and appreciation of the horror genre." The festival will kick off at the Opening Night Film and Party on Tuesday, October 11 on the Sunset Strip. The party, following the screening of Matriarch at the Chinese Theatre, will have bites and cocktails waiting for you at the glamorous open-air Skybar on the rooftop of the Mondrian Hotel. A combo ticket is $75 and includes admission to the opening night film screening and party. Tickets for individual screenings are $13 each; the cost of festival passes vary. Check the full schedule here. 
Oktoberfest fests are here, baby! Whoop whoop! Ok, so I'm really not that excited, but that doesn't mean I'm not delighted to tell you about an ongoing Oktoberfest celebration nearby. Local German restaurant and biergarten, Wirtshaus, on La Brea (btw. Oakwood and Beverly) will be hosting Oktoberfest every Friday and Saturday from now – October 29. Choose from an extensive selection of German brews and traditional German fare like pretzels, sausages and Black Forest cake! For a real show (so they say), stop by at 3 p.m. on kickoff day to watch Wirtshaus's keg-tapping ceremony. The day will include live music, food specials and even a free stein if you buy a liter of Weihenstephaner. Lederhosen is optional but encouraged.
Local Government 
In addition to Halloween, election season is definitely upon us, and this week features a conversation with our two City Council District 5 Candidates, Katy Young Yaroslavsky and Sam Yebri, on Monday, October 10, at 7 p.m. via Zoom.  The forum will be moderated by the Buzz's very own Patty Lombard, and is definitely worth checking out if you're a resident of CD 5.  (For more information on where to find other upcoming candidate forums, or recordings of some that have already taken place, see our story from yesterday.)
Your local NC, the Greater Wilshire Neighborhood Council has two meetings on the books this week – a Sustainability Committee on Tuesday, October 11 (rescheduled from last Tuesday) and Board meeting on Wednesday, October 12. Click here to view the calendar for deets.
And the Mid City West Neighborhood Council has just two virtual assemblages on the sched this week, starting with the General Board Meeting on Tuesday, October 11, followed by weekly Wednesday Walks on Wednesday, October 12. Click here to check Mid City's calendar for details.
Knowledge + Voting = Power is the formula for this voter info event at The Ebell on Wednesday, October 12 from 7-8:30 p.m. This November, voters (you) will be asked to consider seven policy proposals from abortion to electrical vehicle infrastructure. And you can choose to make an informed decision by learning more about California Ballot Measures from Mona Field, back again at The Ebell with an objective lesson on these measures and assistance in helping you make an educated decision. Mona Field is President of the League of Women Voters of Greater Los Angeles and the author of California Government and Politics Today. Mona's presentation is designed to offer balanced and opposing views on the issues. This is a non-partisan event. The cost is a suggested donation of $10; RSVP here.